Safe. Reliable. Experienced.
Transit authorities across the country count on Transdev U.S. to deliver quality bus operations. In more than 400 communities our focus on quality earns the trust of our clients and passengers. Our mission: help our clients deliver reliable, well-managed transit services that form the mobility blueprint passengers depend on every day to get to work, school, healthcare and more.
Millions of Miles Traveled in the United States Each Year
Every journey is motivated by our mission to empower passengers with the freedom to move by providing safe and efficient operations focused on a positive passenger experience.
Robust public transit is the foundation of successful cities and serves as a critical connection to jobs in urban, suburban and residential areas. Our unwavering goal is to deploy a proven suite of technology, operational practices and systems to provide a reliable and pleasant trip for over 360 million passenger trips annually.
Delivering exceptional customer service
It's impossible to understand passengers without being a passenger. At Transdev, we are public transit advocates who understand the importance of customer interaction and engagement. That's why we've implemented a suite of programs that audit, monitor and measure the passenger experience and measure their opinions and sentiment.
Learn more about our passenger experience management.
Building rider tools for a better trip
Creating an optimal transit experience means providing tools that help riders connect to and navigate the network. Our proprietary GoMobile app features rider alerts, nearby stops, real-time arrival information and digital and mobile fare payment.
Learn more about our Innovations in Mobility.
Transdev operates many types of Microtransit services
Transdev has successfully launched, piloted and is managing microtransit services in the U.S., France, the Netherlands and Australia. These services have helped achieve key equity, service and financial goals for our clients. We provide a variety of services and operate everything from 4-passenger cars, to vans and shuttles for 6 to 15 passengers, as well as autonomous shuttles.
Learn more about Transdev Microtransit Services.
Empowering employees with the technology to help riders
In many locations, our supervisors have tablets that provide quick and easy access to information on routes, real-time information, connections and issues. In a major transit center in San Diego, our Supervisors act as ambassadors and have instant data to help passengers move easily around the system. They can also immediately document complaints or issues into our comprehensive customer feedback system.
Your Zero-Emission Vehicle Partner
Transdev is committed to providing innovative and best-in-class zero-emission fleet solutions. We're excited to continue developing our team members and helping our transit agency, university, airport and city partners implement zero-emission fleets – ensuring safe, reliable, cleaner transportation solutions for our communities.
Learn more about our Zero Emissions Expertise.
Transdev's campaign to drive ridership and help cool the planet!
We wanted help think about riding public transportation as a way to do our part in fighting climate change. That's why we came up with our campaign to help "Co2L the planet," a clever take on collectively helping to lighten our Co2 impact. Who knew that fighting climate change could be so convenient?
Ride the Bus to Co2L the planet!
An Unrelenting Commitment to Safety First in Bus Operations
The health and safety of our employees, passengers and the communities we serve is our highest priority. It is our moral and ethical obligation and is at the core of many of our business practices.
We show our commitment through our many expansive programs used to drive home this imperative. We engage all employees to constantly pay attention to safety—even the smallest details—in everything they do. Our goal is to continue building a culture where employees consider safe operations their personal responsibility and investment. To achieve this we continuously train, reinforce, motivate, measure, monitor and strive to improve.
Excellence in operator training
Each new Transdev bus operator receives 120 hours of training, 8o behind the wheel and 40 in the classroom. Beyond that, we customize each training profile based on the specific needs and proficiencies of each operator.
Expanding our safety culture
Our custom-designed 300:29:1 program is a cornerstone in ensuring a strong safety culture at our locations. Based on the work of behavioral scientists, the program seeks to engage employees in eliminating the 300 minor unsafe practices or situations that eventually lead to 29 minor incidents, and one major accident.
Harnessing data to enhance safety
Our digital platform feeds real-time data into a dashboard that managers can review at a glance to see if operators need retraining, how operators are performing on key metrics, and even what intersections are culprits for accidents.
Learn More
The Evolution of the Garage
Advances in maintenance technology are turning traditional mechanics into skilled technicians.
Transit vehicles are now extensively computerized. Wrenches have been replaced by sophisticated diagnostic software and computers and tablets. At Transdev, paperless garages are ubiquitous. Our maintenance software assigns work, tracks parts and monitors productivity.
Customized fleet-management software
Our proprietary platform for maintenance automates our preventative maintenance scheduling. This system enables us to maximize the efficiency of the maintenance operation and maintain a high standard of quality in fleet repairs. Regular internal and regional audits reveal areas to improve: efficiencies in maintenance increase with every tire changed or part replaced at the right time.
KPI dashboards
We rigorously track key metrics, including miles between road calls, cost per mile per part and labor cost per mile. When a bus is not in service it is revenue wasted. That spirit has led to new approaches in digital maintenance that keep our fleet of nearly 9,000 vehicles on the go—reliably serving passengers in every community.
Moving from preventative to proactive
Cloud-based alerts help our technicians work on problems even before the bus returns to the garage, signaling a shift to handling maintenance issues as they arise, as well as at pre-determined mileage levels.
Learn More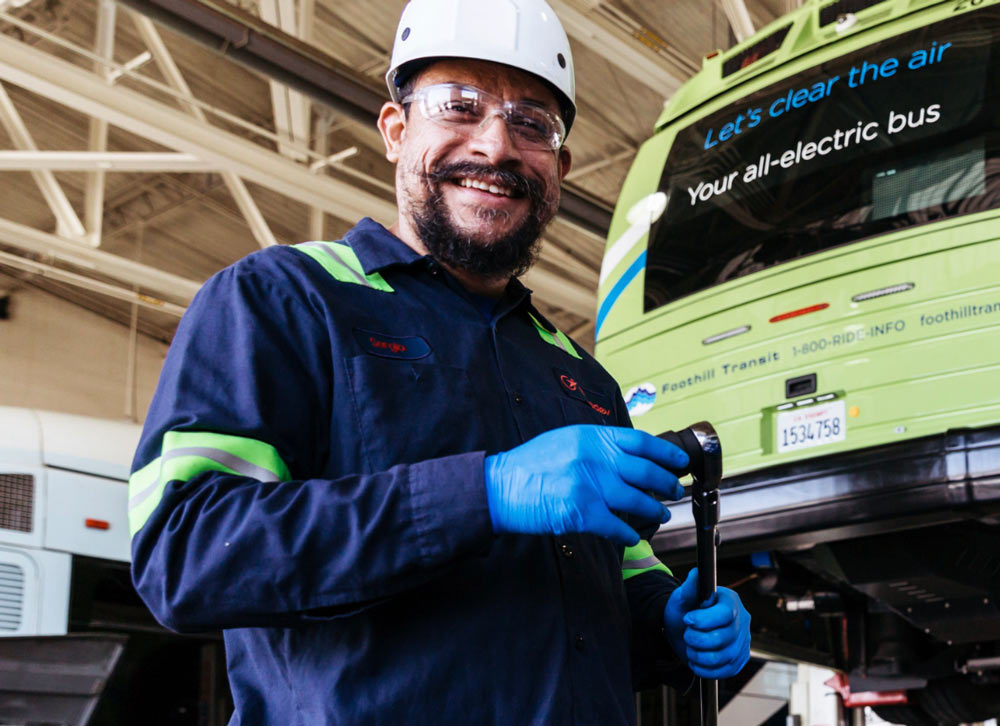 The City of Phoenix Fixed Route Services is the member agency within Valley Metro Regional Public Transportation Authority (RPTA).
Transdev has operated the fixed route contract for the City of Phoenix since 2007. The 397-employee operation has a fleet of 167 vehicles. Transdev partners with the city to deliver on their vision of enabling people in Maricopa County to travel with ease using safe, accessible, efficient, dependable, and integrated public transportation services. At Transdev, we couple new operational approaches and technology tools to achieve measurable positive results to on-time performance and other key performance indicators.