Transdev has significant expertise in trip scheduling, dispatch, training and operations, bringing consistent satisfaction to our passengers and value to our clients.
Delivering the Next Generation of Paratransit
At Transdev, we empower the freedom to move. We are committed to giving our paratransit riders the freedom and confidence to navigate a city and its communities. Today, we are part of a movement to improve paratransit operational logistics and service delivery.
We have provided paratransit services since 1985 – five years in advance of the passing of the historic Americans with Disabilities Act (ADA). Today, we offer millions of paratransit trips annually for passengers in every type of operating environment – from rural communities to large metropolitan areas.
Together with our clients, Transdev delivers access to new on-demand platforms that connect riders with vehicles far more quickly and efficiently. Passengers can make and change reservations via call centers, or web, apps and mobile sites.
How Paratransit Works
The Americans with Disabilities Act (ADA) guarantees paratransit to ensure equitable mobility services for people with disabilities who cannot use other public transit modes within a given service area. Paratransit services provide access to life-sustaining services, such as doctor's offices, dialysis centers, senior centers, grocery stores, and other important locations.
Pursuant to ADA requirements, these demand responsive services serve origins and destinations within 3/4 mile of any existing fixed route transit system. When a passenger needs a ride, they will request a trip, typically via a call center. Transdev offers its clients a variety of technologies to support efficient ride scheduling.
Paratransit programs require passengers meet specific eligibility requirements. In addition to supporting its various clients with safe, sustainable and innovation mobility solutions, Transdev continues to leverage its extensive experience and knowledge of the ADA eligibility process through its Mobility Options business line. Clients can benefit from Transdev's team of subject matter experts and their technological and innovative system, which allows for increased visibility through a more streamlined and accurate certification process.
A Commitment to our "Safety First" Culture
The safety of our employees, passengers, and communities we serve remain our highest priority at Transdev. Transdev's Professional Operator Development Program (PODP) is our standardized training to develop skills to help ensure drivers can operate professionally and safely in our paratransit locations.
Seamless Passenger Journeys
We are a company driven by purpose. Our purpose statement is what motivates us every day and serves as the compass for all our decisions. We empower freedom to move every day, thanks to safe, reliable & innovative solutions that serve the common good.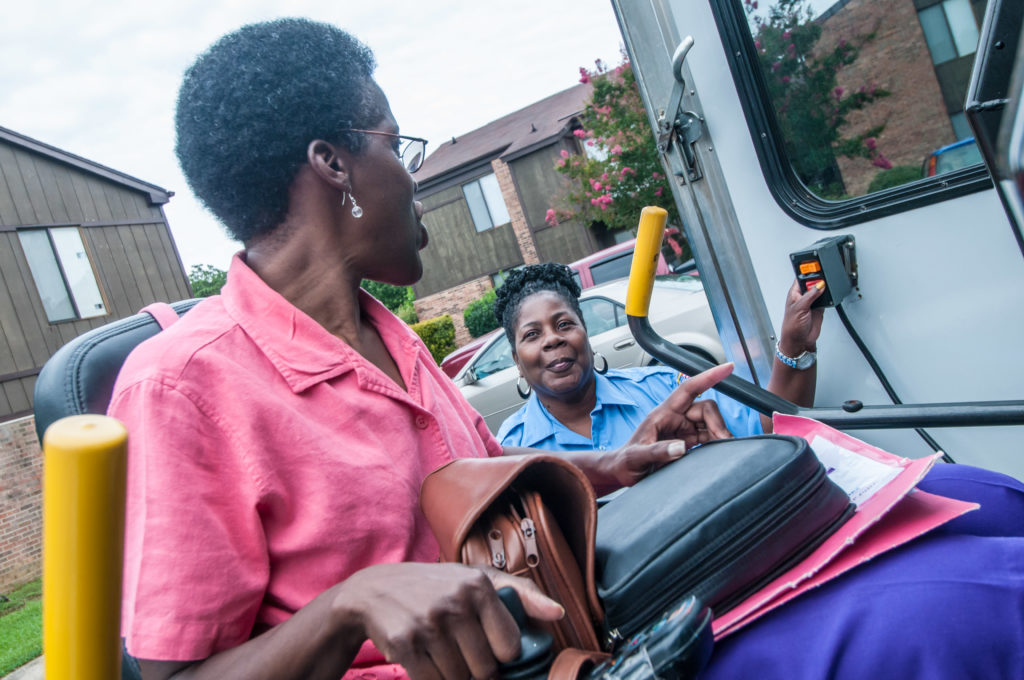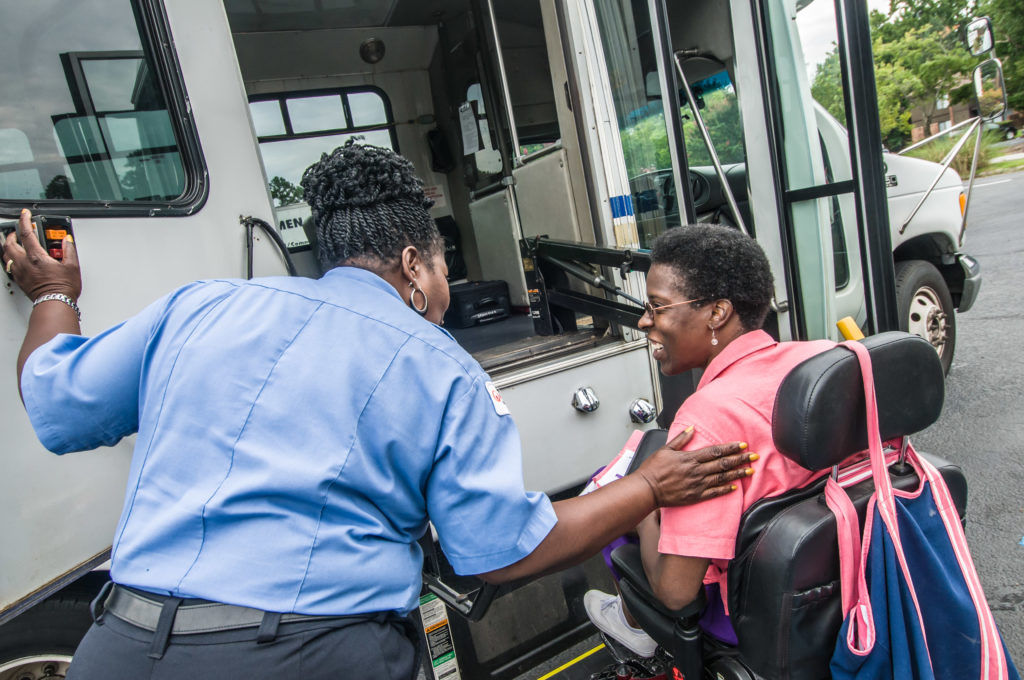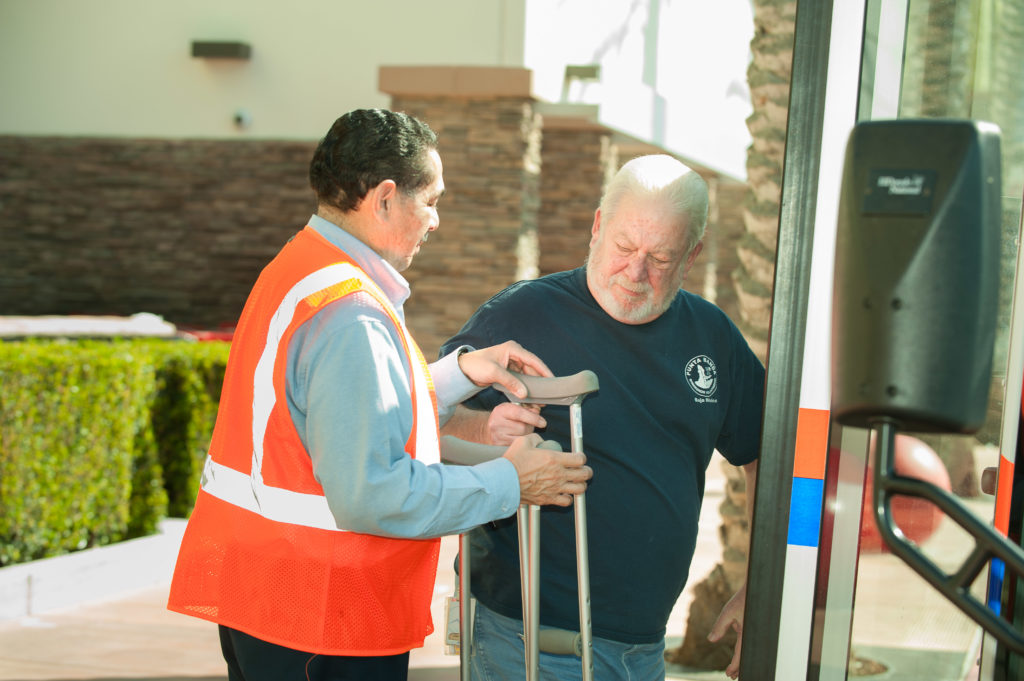 Innovations to Improve the Passenger Experience
Transdev uses various technology platforms to put passenger convenience and choice at the center of our service. Our customized paratransit platforms for scheduling, dispatching and routing help enhance real-time performance.
Find out more about our innovations in mobility.
On-Demand Trips
We build flexibility into trip designs so fluctuating demand and changes in passenger schedules can be accommodated and efficiently managed.
Rigorous Maintenance
Maintenance standards take on a new meaning when transporting passengers with unique circumstances or requiring special care. From well-functioning wheelchair lifts and doors to ensuring a smooth ride with no unnecessary movements or vibrations of the vehicle, each can help ensure passenger comfort.
Non-Emergency Medical Transport
We operate call centers and brokerages from coast to coast with experience contracting directly with public transit agencies, state Medicaid departments, and managed care organizations.
Our set of proprietary technology, tools, and processes set us apart. Brokerage coordination centers combine the latest digital innovations with the practical experience that comes from being the leading provider of multi-modal transportation in the world.
We apply this industry expertise to deliver measurable results in meaningful ways: reducing costs, delivering innovation, increasing efficiencies for all budgets and improving the passenger experience.
OMNITRANS – SAN BERNARDINO
Transdev began providing transportation services for OmniTrans in San Bernardino, California in July of 2020. Transdev provides safe, reliable transportation for approximately 11 million passengers over a 480 square mile area, covering 15 cities and portions of less developed areas of San Bernardino County. We oversee a fleet of 107 vehicles and serve the community with paratransit and microtransit services.
Service began in July 2020, amidst stay-at-home orders, safety restrictions and low ridership due to COVID-19. Starting up a new location is always met with its obstacles, and Transdev needed to build a skilled team to manage and run our new operation in the unique situation.
Our team was able to maximize the capabilities of Trapeze immediately after start-up by assessing and identifying where improvements in efficiency or performance could be gained. After this analysis and implementation of solutions, Transdev saw an overall increase in operation efficiency and a decrease in average passenger travel time as a result.